Finest Cantonese Dining At

Long Trieu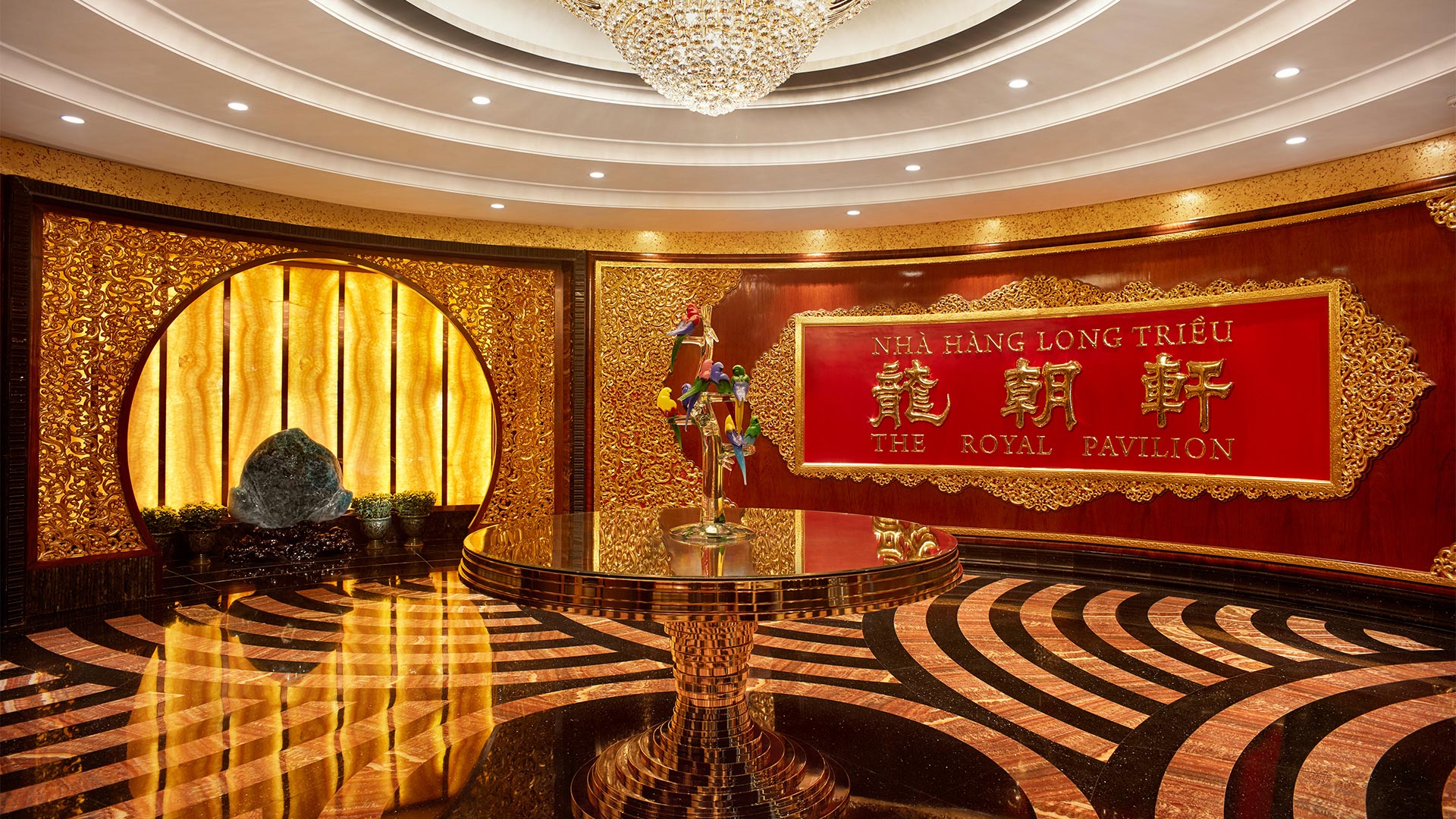 Looking out over picturesque Nguyen Hue Boulevard, Long Trieu is known for its divine dim sum, including melt-in-the-mouth baked barbecued pork puff buns, steamed red rice roll wrapped with crispy bean curd & shrimp, and mango pudding with sago & pomelo.
Signature à la carte dishes offer a lavish culinary journey through the most popular Cantonese  cuisines, with delicacies that include braised imperial bird's nest soup, honey-glazed barbecued pork, and the restaurant's signature crispy tower of deep-fried shredded taro with peanuts.
The main dining room presents an artful dining experience in every way, while the 9 private dining rooms are perfect for hosting sophisticated gatherings.
Long Trieu is proudly admitted to the prestigious Michelin Guide 2023.
CUISINE

Cantonese

CHEF DE CUSINE

Lau Yam Chuen

LOCATION

4th Floor | Times Square Building

RESTAURANT

Long Trieu

CAPACITY

200 | 9 private dining rooms

TELEPHONE

+84 28 3823 6688

EMAIL

restaurant@thereveriesaigon.com

LUNCH

11:00 am – 2:00 pm (from 10:00 am on weekends)

DINNER

6:00 pm – 10:00 pm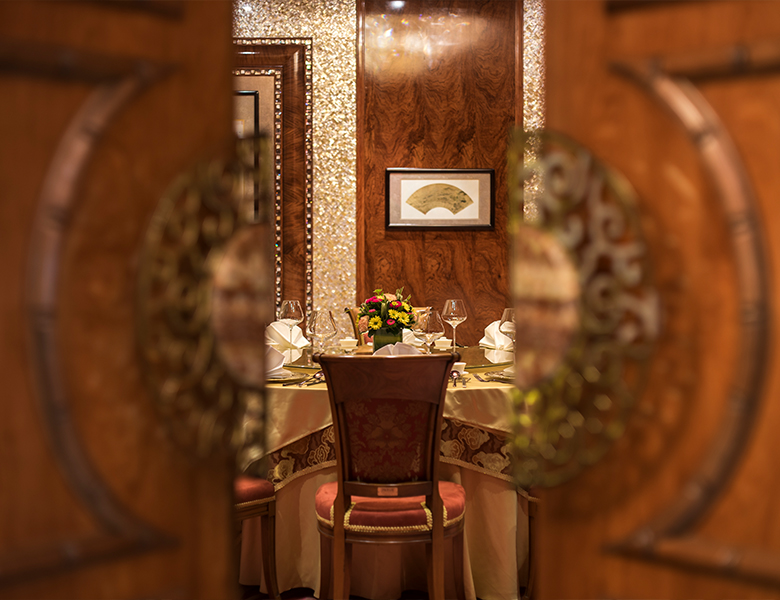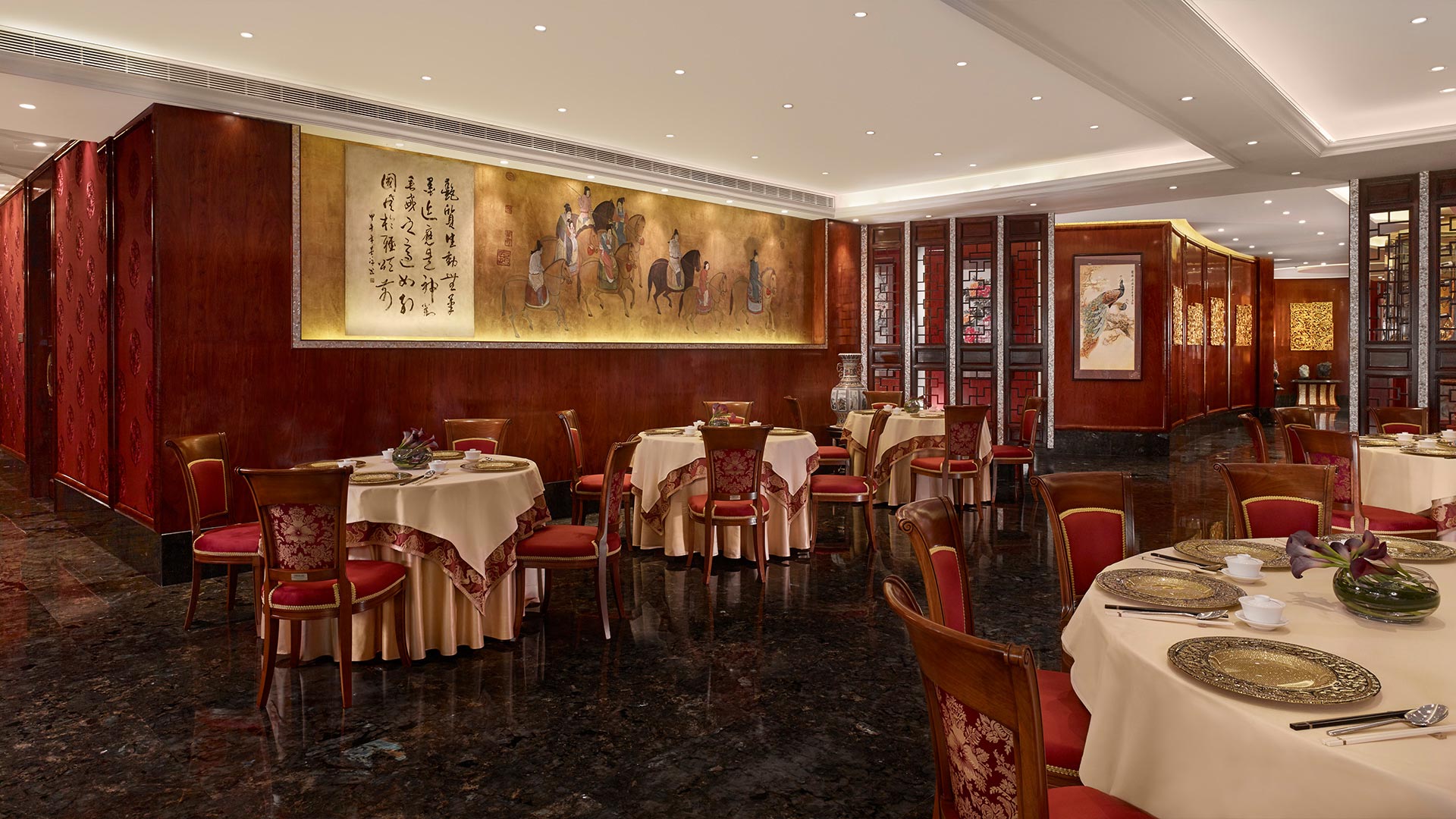 CHEF
Chef Lau Yam Chuen was born and raised in Hong Kong, and the city's culinary culture is part of his DNA.
For more than 30 years he honed his craft in the city's finest restaurants, including at the Ying Jee Club when it received 2 Michelin stars. Chef Lau's deep knowledge of Cantonese cuisine and refined style has found the perfect home at Long Trieu.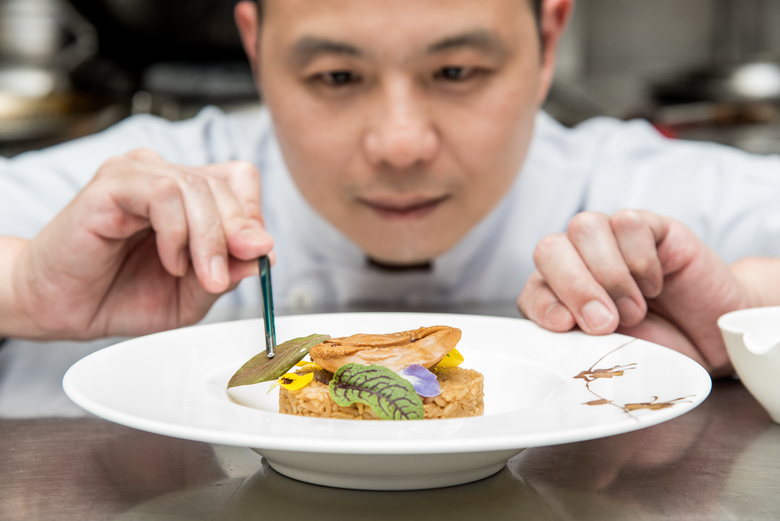 CUISINE
A celebration of authentic
The Cantonese fare menu at Long Trieu raises the bar with its masterful preparation and exquisite presentations of delicacies such as abalone, sea cucumber and bird's nest alongside must-haves such as suckling pig, Peking duck, honey-glazed barbeque pork and Hong Kong-style grouper.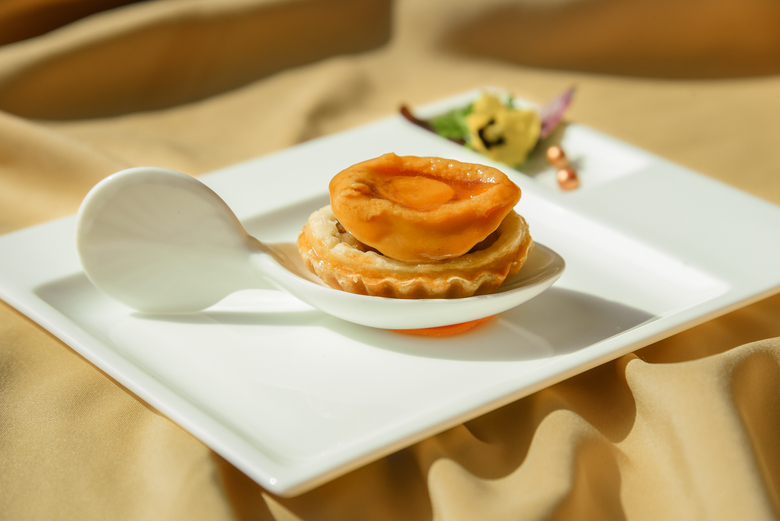 CANTONESE GASTRONOMY
A Fusion of Legends
Experience the harmonious collaboration of Chef Siu Hin-Chi, from the 2-starred Ying Jee Club, and Chef Lau Yam Chuen, the Michelin-selected virtuoso of Long Trieu.
Chef Siu Hin-Chi, renowned for his total of 24 Michelin stars earned over a decade, brings an unparalleled legacy to your table. His mastery elevates every dish to a symphony of flavors.
This exclusive menu also showcases the exquisite Dried Japanese Abalone, an ingredient of utmost rarity, adding a touch of opulence to every course.
Price: VND4,388,000++/pax
From September 6, 2023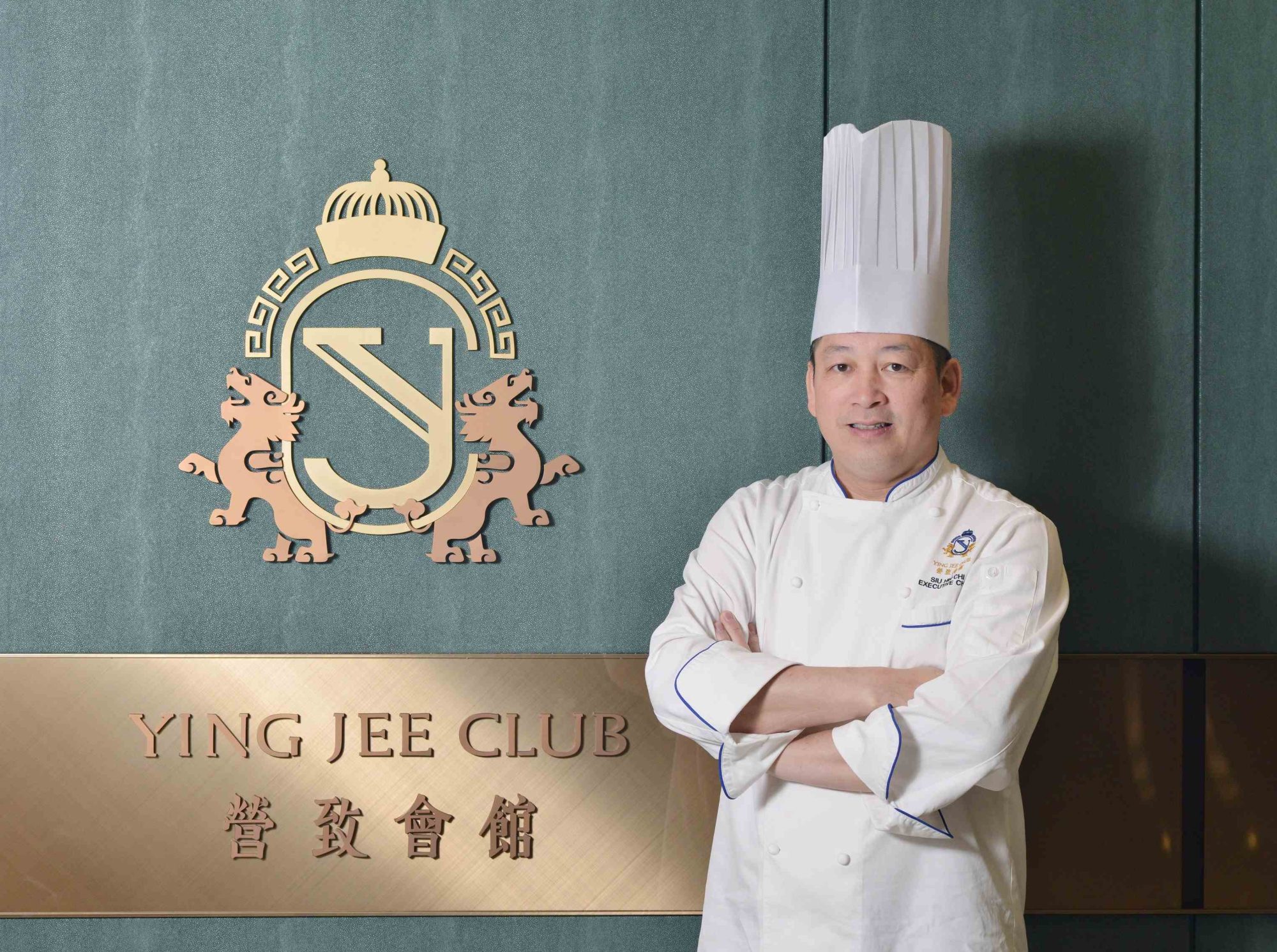 WEEKEND INDULGENCE
Sunday Brunch Menu
Looking for a perfect family weekend gathering? Treat your family to an authentic Cantonese feast with our Sunday 5-course set menu at Long Trieu. Come and make your weekend more delightful with us.
Price: VND1,280,000++/pax with free flow sparkling wine at VND1,680,000++/pax
Available on Sundays, 10:00 am – 2:00 pm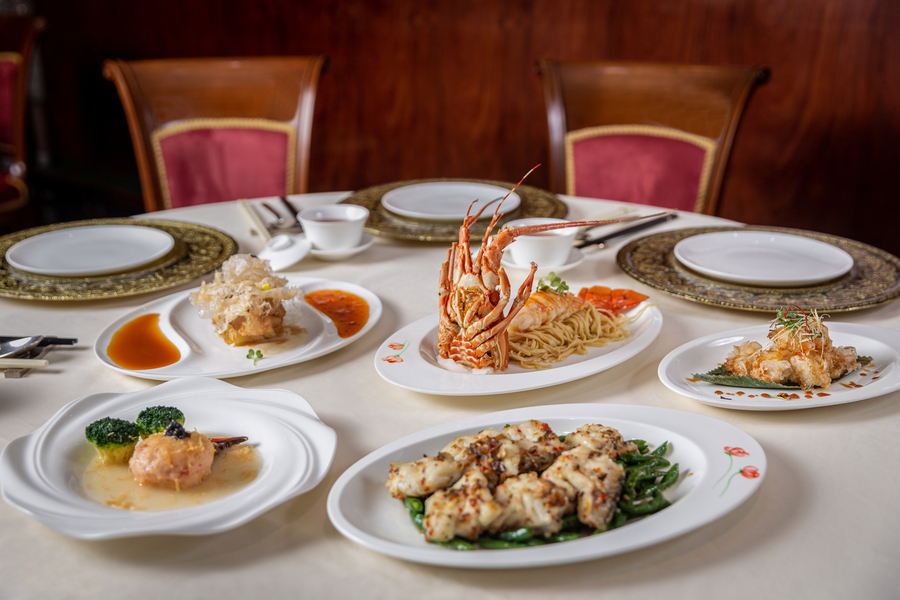 WINE PAIRING TASTING MENU
East West Wine Pairing Experience At Long Trieu
Experience an extraordinary dining affair at the Long Trieu, where the essence of authentic Cantonese cuisine meets the art of wine pairing. Delight in an exquisite eight-course set menu featuring classic Cantonese dishes, thoughtfully matched with carefully selected Old- and New-World wines.
Price: VND2,888,000++/pax with free flow sparkling wine at VND1,200,000++/pax 
Daily, 11:00 am – 2:00 pm & 6:00 pm – 10:00 pm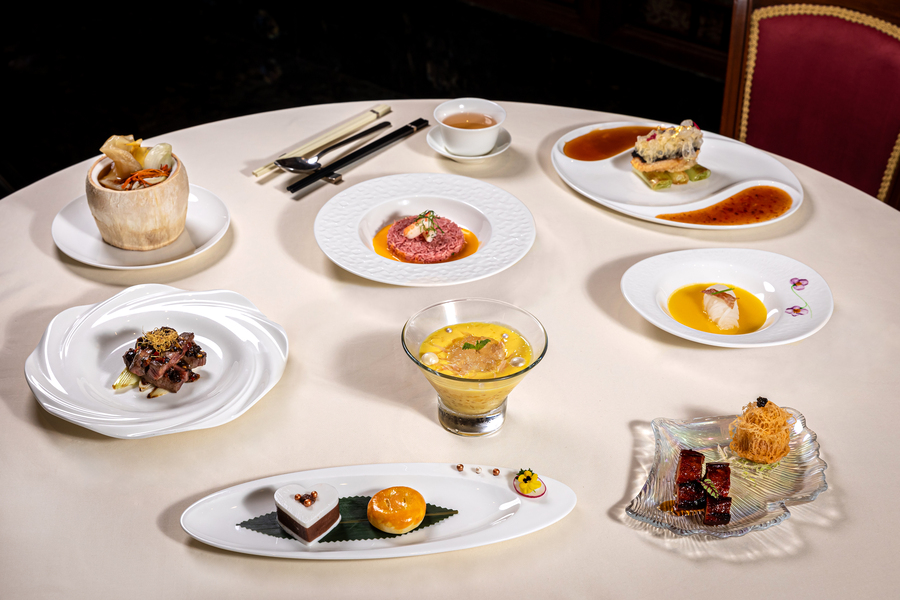 TRADITIONAL
Weekend Gathering Set menu
For family or friends gatherings, Long Trieu offers special set menus for 4-6 people, featuring Cantonese favourites.
VND 4,988,000++/4 pax set menu
VND 9,888,000++/6 pax set menu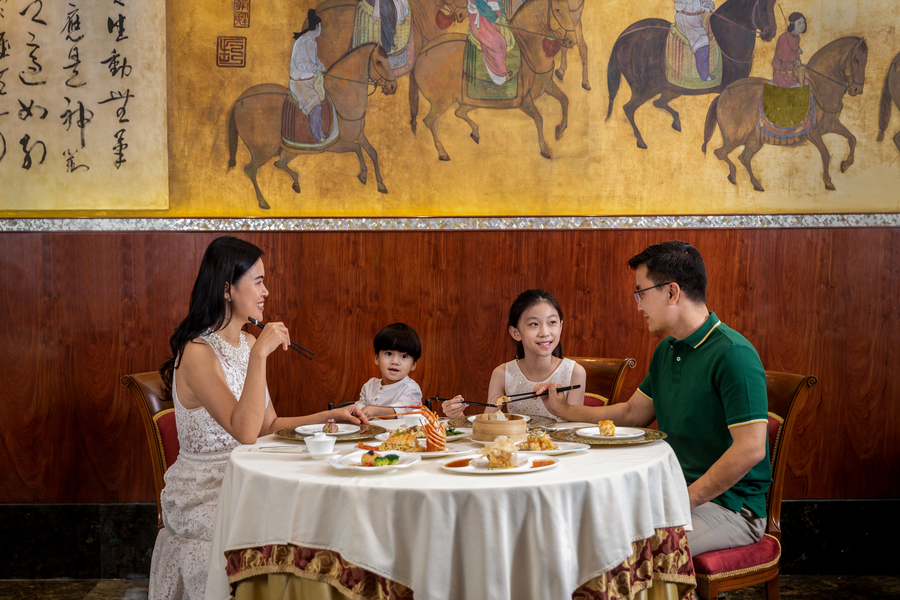 TRADITIONAL
All day Dimsum Showcase
Long Trieu is proud to present over 50 dimsum choices from favourites of Steamed shark'sfin shrimp dumpling, 22 heads abalone pork dumpling and Baked whole abalone tart.
Daily, 11:00 am – 2:00 pm & 6:00 pm – 10:00 pm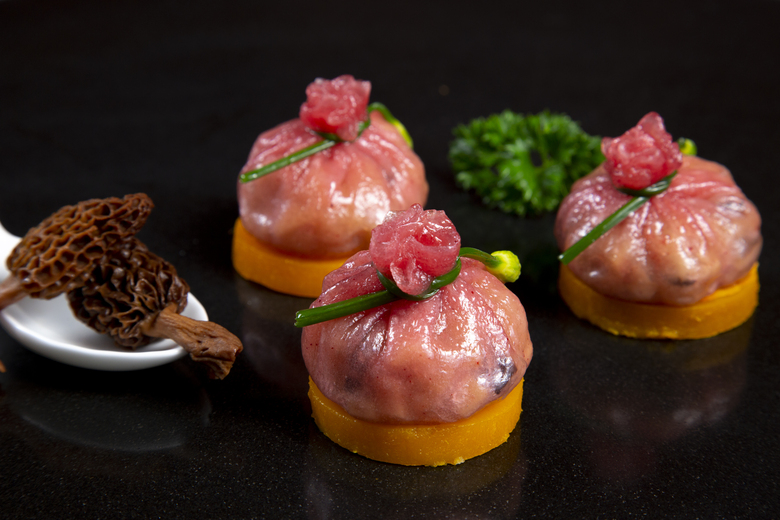 LONG TRIEU
Stately & Elegant
Long Trieu's distinctive décor sets the auspicious tone for an extraordinary experience, from the specially commissioned Swarovski crystal dragon installation suspended at its entrance, to the elegant furnishings custom-designed by Provasi which reflect an Asian-inspired palette of regal red and gold infused into the finest Italian craftsmanship.
With bold expressions of jade, vermilion and gold throughout – including exquisite wood carvings of Chinese pictorials – the stage is set for one Saigon's most refined dining experiences.